Our ultra-high translucency GenesisZr® UHT700 Zirconia Milling Disc combines beauty and strength providing 49% translucency and 700 MPa flexural strength. Available in Classic White GenesisZr® UHT700 Zirconia is made from the USA from Tosoh Powder and recommended for all anterior and bridges up to 3 units.
Available In:
98 mm x 12 mm
98 mm x 14 mm
98 mm x 16 mm
98 mm x 18 mm
98 mm x 20 mm
98 mm x 22 mm
98 mm x 25 mm
To Color GenesisZR® UHT700:
Apply one coat of AMS incisal tone to incisal 3rd where desired for enamel effect.
Dip restoration in Origin Chroma liquid for 1:00 minute.
Remove excess liquid immediately using compressed air or a paper towel.
Dry under a heat lamp for 15 minutes before loading into a sintering oven.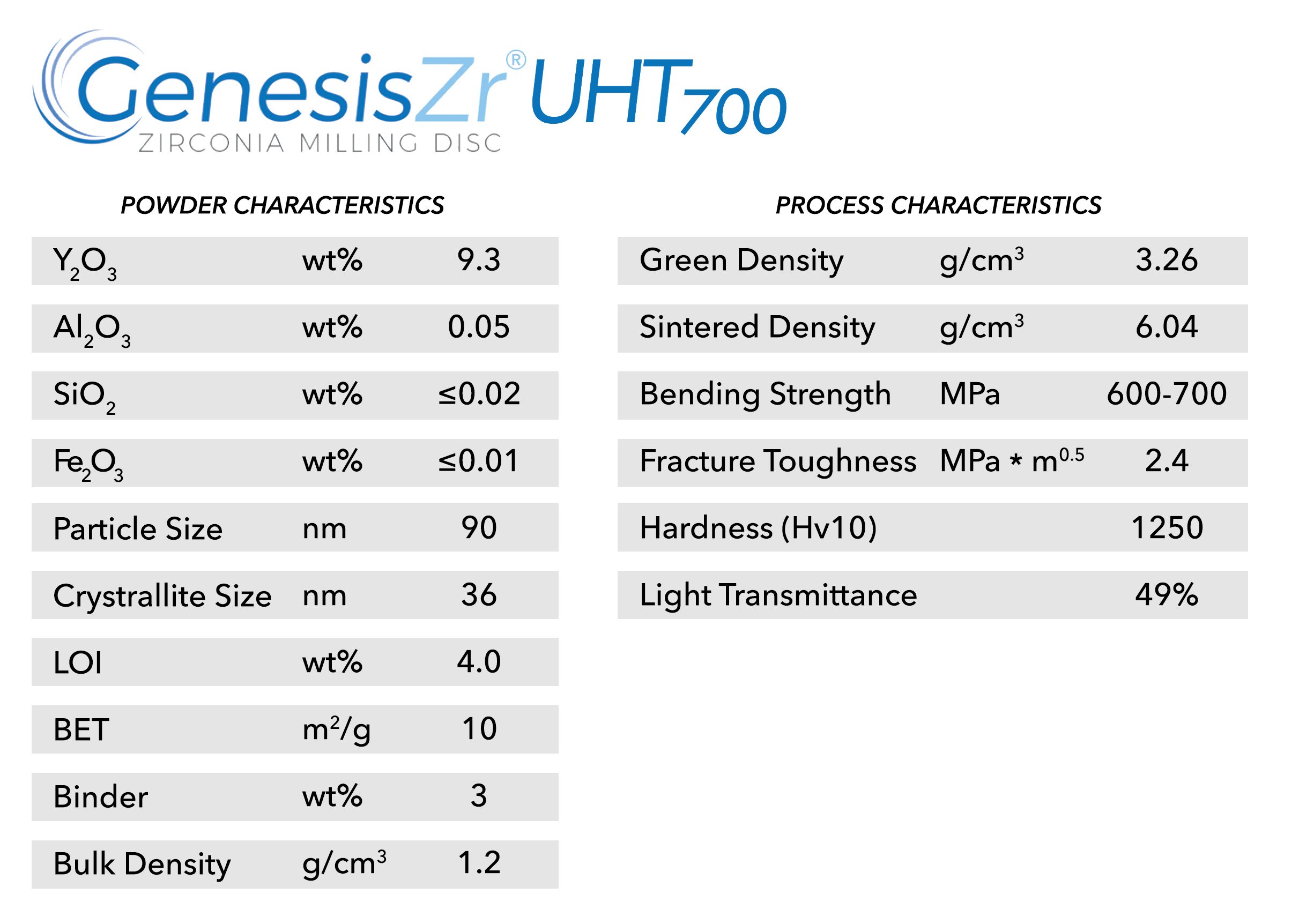 Material Final Temperature:
1500°C
Heat Rate of Furnace:
Ambient - 1220ᵒC – (12ᵒC per min to 1220ᵒC)
For anything up to and including 3 unit bridges:
12°/min - 1220° - 45min hold
3°/min - 1320° - No hold
12°/min - 1465° - No hold
8°/min - 1520° - 150min hold
Cool at 15°/min to Room Temperature
Get Started With GenesisZr® Today
We're confident that GenesisZr® will transform your dental lab, save you money and produce high-quality restorations.